Choosing related art hashtags that match your art style and engagement level is the first crucial step in branding yourself as an artist on Instagram.

It will help you to reach the correct art audience and guide them to your profile. However, using only popular and famous art hashtags is not an advantage!
Without combining the correct art hashtags based on their level and traffic, it might waste time and probabilities.
​
Every artist is different, And the same art audience is.
Everyone has a personal artistic taste.
The best art hashtags generator designed mainly for professional artists over years of experience and research
I found The Exclusive Art Hashtags program super powerful. As I started to use it, I increase my interactions with followers and new people effortlessly and fluidly. It is so simple to use and allowed me to relax more in creating text than trying to find the proper # for my posts and adds because it creates a new functioning # each time by itself. Very recommended
I absolutely love using the hashtags program! It is effortless to use, you get your indicator hashtags within a second, and it is totally tailored to your individual account!
​
I think it is the best social media tool for artists I have seen out there...
Highly recommended!
I found it very easy to work this way!
Less time searching for the best art hashtags, very easy, useful.

I am sure it will be my best tool, though!

How to signup
The Username
---
Please enter your Instagram username correctly without the @ symbol or any capital letters. It should be precisely the same as it shows on Instagram; this is necessary to create the correct branded art hashtag for your art account and for us to navigate to your profile for the engagement level analyses.
---
The Email
---
We recommend you use a valid email. You might need it to reset your password if you forget it, as well as for us to contact you for more clarification about your art style if it's needed.
---
The Targeted Location
---
We will add some local art hashtags which will help the ranking of your art profile from your local art followers and audience. Furthermore, this will help you build your name as a well-known artist, giving you some opportunities for local galleries and art exhibitions.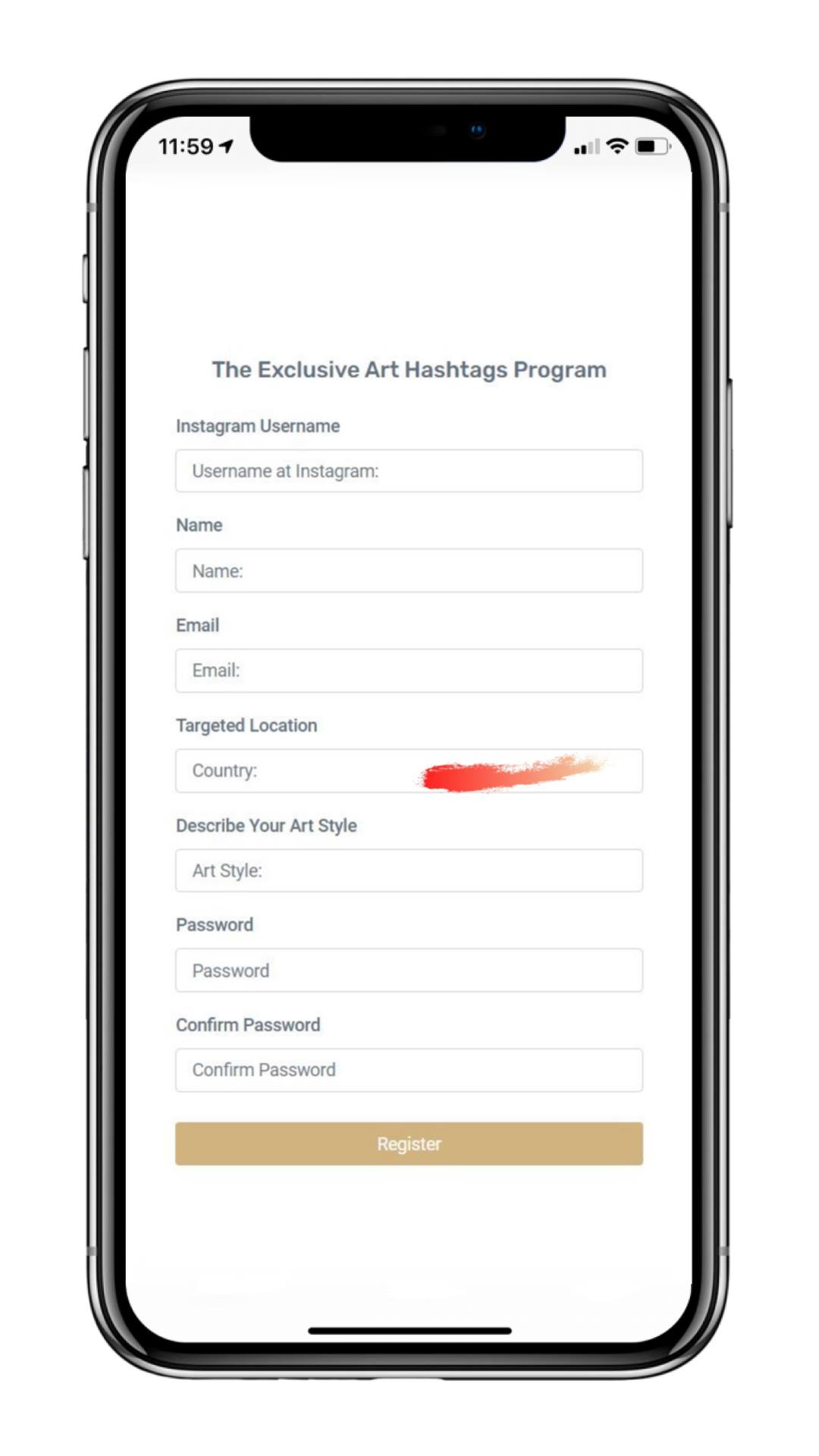 ---
Pricing and process
---
After you submit all the necessary answers, you will see the subscription page. Please keep in mind that the only available payment method for the meantime is by card; we will add other payment methods in the future. Once everything is done, the process will start. It might take a maximum of 24 hours to analyze your art profile, the engagement, and the targeted art hashtags. ​ You will receive a confirmation email once all the art hashtags have been uploaded to your dashboard. Then, you can start using your custom art hashtags.
---
The Art Style
---
This is the most critical field, and you need to describe your art style by keywords. For example:
(abstract art, abstract expressionism, urban abstract, etc.) Please try to avoid any notably broad keywords such as:
(art, painting, etc.) The searching and analysis process for the targeted art hashtags will be based on the provided keywords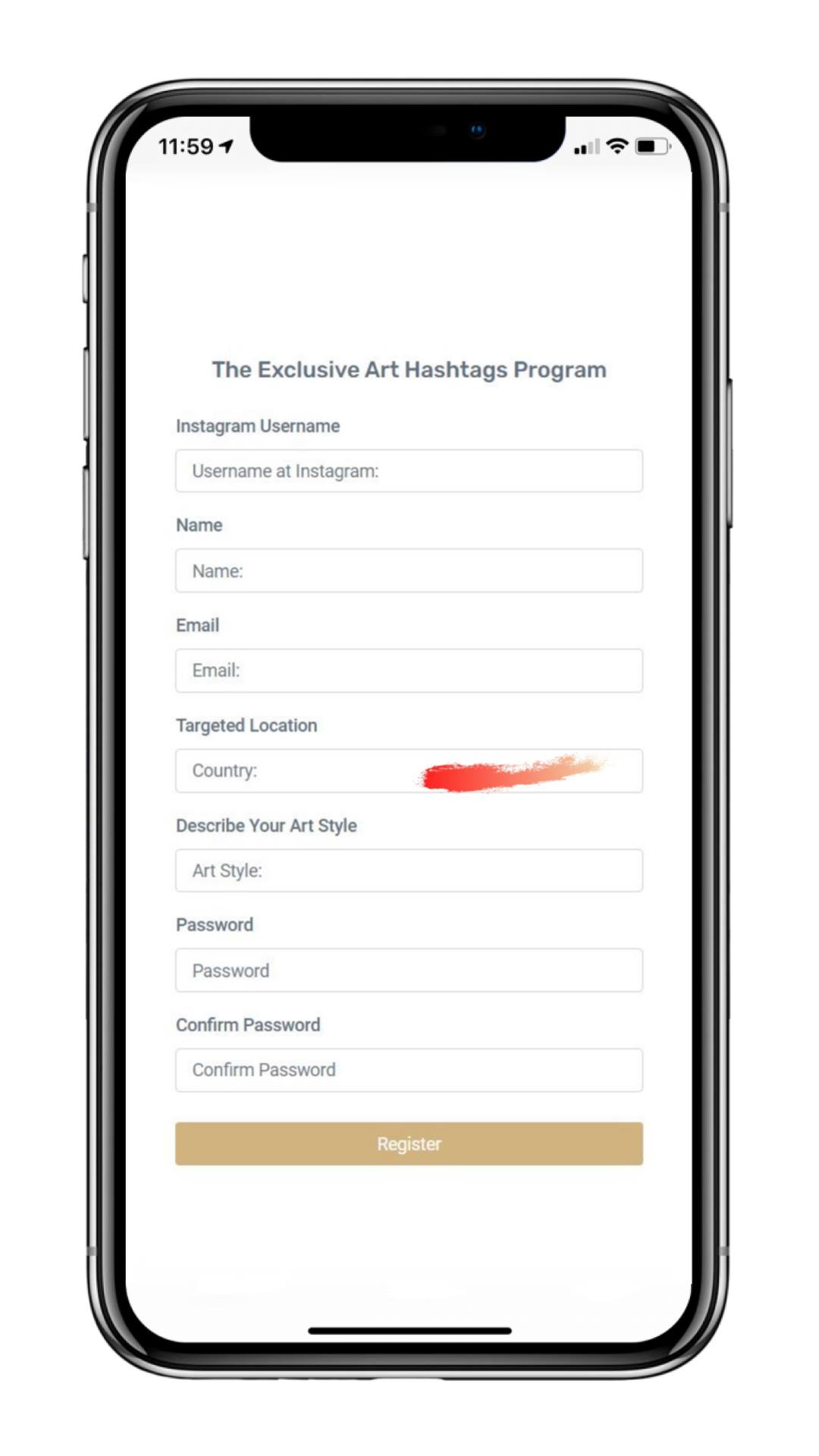 ---
---
For more questions related to the exclusive art hashtags program, feel free to contact us or visit the FAQ page.